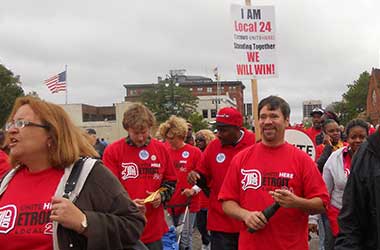 The standoff between the three Detroit city casinos and the casino union has gone on for months and has caused serious concern for the state government as both parties were finding it difficult to reach a mutual agreement.
The Detroit Casino Council which is made up of union members from the International Union of Operating Engineers Local 324, Teamsters Local 372, Unite Here Local 24 and UAW Local 7777 were pushing MGM Grand Detroit, MotorCity, Greektown Casino to provide better healthcare benefits to its casino employees.
The casinos were not willing to make any changes to its healthcare benefits stating that these additional costs were not in the budget and if any changes were required, the casino would have to tap into the annual increase and promotion budget of its employees. The negotiations went on for months and in November the Detroit Casino Council decided that it would go ahead with a strike if the casinos decided to drag out the process any longer.
Detroit's economy has struggled for a number of years and the casino industry generates a significant amount of revenue for the government and also creates thousands of jobs for the loca communities. The government urged both parties to sort out their differences quickly and it now appears that a solution might have been found that appeases both parties.
If the Detroit Casino Council decides to accept the new five year casino proposal this week, then full time casino employees will not lose any of their health benefits and will also be eligible to receive a signing bonus of $4,250. Part time casino employees will also receive a signing bonus of $3,400 and casino employees will be eligible to receive a 2 percent salary increase in their fourth year and a 3 percent increase in the fifth year.
In a statement, Gregg Solomon, CEO of MotorCity Casino Hotel said
It was in our collective best interest to reach an agreement that continues to allow our associates to earn the highest wages in the gaming industry, while preserving the hotel and casino operations that provide such critical tax revenue to Detroit.
Some of the other benefits that the casino employees will receive include improvements to worker classifications; after five years of employment, part time employees will get an additional sick/personal day; improvements to seniority issues and part time employee scheduling and continued protection on sub-contracting.
About the Author
Hi, my name is Marcus Punter and welcome to my website casinositeshelper.com, as a resident of the UK I have spent many years around gambling in various forms (more on this later). I thought I would give you a little insight into why I launched this site and to also give you a little bit of background information into...