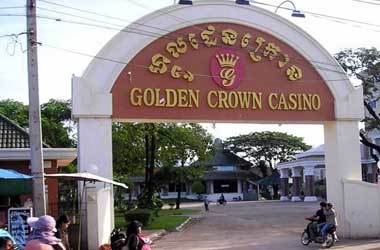 More than 100 Chinese nationals were arrested from a casino owned by a senator in Poipet, Cambodia which is situated the Thailand-Cambodia border. They are suspected of being wanted for crimes in China.
Sem Makara who is deputy immigration police chief for the Poipet International Checkpoint confirmed that Chinese and Cambodian police conducted a joint operation that included a sting operation at the Golden Crown Casino located in Poipet and arrested 105 Chinese nationals who were staying at the casino's hotel. The casino is owned by Kok An, a business mogul and a senator belonging to the ruling party, Cambodian People's Party.
Neither he nor Lieutenant General Sieng Sen, the director of the Interior Ministry's internal security department who led the raid, disclosed the reason for the arrests. Makara said that the background of each of those arrested will be checked. The Chinese nationals who were arrested have been transferred to the Poipet City police station.
The casino was completely shut down during the raid to facilitate the process. According to Lieutenant General Sen since the casino had a number of Chinese nationals present, the authorities were forced stop operations and assemble them at one place in order to identify those suspected of having open arrest warrants in China.
Police said that they are in the process of verifying each one of them against Chinese warrants in order to identify those who need to be handed over to the Chinese authorities. So far 38 of the 105 arrested have been identified as being wanted in connection with crimes in China.
In a statement, Lieutenant General Sen said,
We will continue processing the cases tomorrow of those who are involved with committing crimes in their own country, as we are checking them against the Chinese court warrants and cooperating with Chinese police.
A similar operation was carried out in November last year when immigration police arrested around 168 Chinese nationals at a Sihanoukville casino with assistance from Chinese police and embassy officials. At that point in time, police had said that a Chinese group had been using Voice over Internet Protocol (VoIP) to blackmail and extort money from affluent Chinese families. This is the second time within a span of six months that a Cambodian
casino has been targeted to arrest Chinese nationals.
Those arrested were deported to China and put on a blacklist prohibiting their entry into Cambodia again. Lieutenant General Sen said that a similar procedure would be followed here as well.
Cambodia has been frequently used by Chinese criminals as a base to operate scams which use internet telephony to extort money from Chinese citizens.
About the Author
Hi, my name is Marcus Punter and welcome to my website casinositeshelper.com, as a resident of the UK I have spent many years around gambling in various forms (more on this later). I thought I would give you a little insight into why I launched this site and to also give you a little bit of background information into...