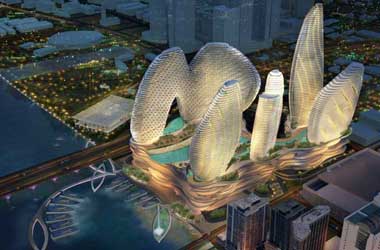 After years of negotiations and permits, the city of Miami has finally unanimously approved the transfer of bayfront bottomlands to Malaysian gambling giant Genting, who has been hoping to develop a resort casino in the area.
In 2011, Genting, through their subsidiary Resorts World Miami LLC, purchased the huge patch of waterfront property that was once the location of the Miami Herald. The $236-million purchase was supposed to churn out a $3-billion luxury resort casino called Resorts World Miami. It was poised to become one of the world's biggest resort casinos, spanning 14 acres of land.
But Genting's hopes were squashed by legislators since their plans required significant changes to Florida law. Because of their failure to lobby legislators, the company then moved to turn the space into a mixed-use commercial space that would offer hotel, retail, and residential amenities.
To date, Genting is yet to turn those plans into reality. But the recent acquisition of the bottomlands have reignited Genting's plans for the property. The company announced in 2016 that they will start developing the Bayfront bottomlands into a marina, regardless of whether they will ultimately secure a permit to host gaming space. They have also secured the support of the Miami River Commission to build a 50-slip marina, which will be constructed between the MacArthur and Venetian causeways.
In addition to the property, ownership of 42 boat slips on the river were also transferred so the slips could be relocated to the Bayfront site. According to the proposed layout detailed in 2016, the marina will be able to handle ship vessels as small as 50-foot long to as huge as 175 feet.
The completion of the transfers could now also spark new negotiations between the city of Miami in the US and the international casino developer regarding leasing the land below the ocean. It also comes with a promise that Genting will construct a baywalk for the public along the shore, and to connect the part of the baywalk under I-395 to the currently existing baywalk across the Pérez Art Museum Miami.
According to background memo from the Florida Department of Transportation (FDOT) meeting, the property was originally planned for the development of MacArthur Causeway, which would create a through road to to Watson Island and Miami Beach. But after the FDOT deemed that the property was no longer required for the maintenance of the MacArthur Causeway, they have decided to convey the property back to the city for leasing to Genting.
About the Author
Hi, my name is Marcus Punter and welcome to my website casinositeshelper.com, as a resident of the UK I have spent many years around gambling in various forms (more on this later). I thought I would give you a little insight into why I launched this site and to also give you a little bit of background information into...