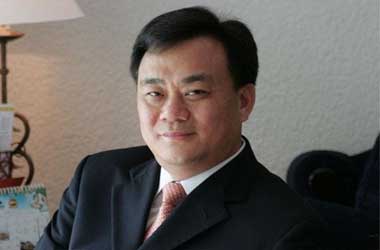 Chinese casino tycoon Jack Lam who has been facing arrest in the Philippines for bribery and illegally running an online gambling business, has been permitted to return to the country by President Rodrigo Duterte on the fulfillment of three conditions
This was revealed in a statement made by Justice Secretary Vitaliano Aguirre II who said,
Jack Lam has been allowed by President Rodrigo Duterte to come back provided that he meets at least three conditions.
The three conditions are: Lam should apply for a license with the country's gaming regulator, settle all the tax monies outstanding from his illegal online casino business that he was operating in the country out of Fontana Leisure Parks and Casino and finally, promise to not make any more bribery attempts.
Lam had allegedly tried to bribe officials from the Bureau of Immigration (BI) to secure the release of 1,316 illegal Chinese workers who were arrested in a raid on his business in Fontana in November. It was later uncovered that Lam's online gaming business didn't possess a license from gaming regulator Pagcor (Philippine Amusement and Gaming Corp.).
Fontana was consequently shut down, and President Duterte ordered the seizure of Lam's assets as well as his arrest.
President Duterte's recent decision to allow Lam to return follows an earlier decision to allow the reopening of businesses operating in Fontana. Over 2,000 workers of Clark Development Corp had in particular been affected by the closure. Aguirre has however stated that the easing was not valid for Lam's gaming business.
Around 592 of the 1,316 arrested Chinese nationals have received bail from the BI's board of commissioners. The department has charged 43 of them for violating two laws –the Presidential Decree 1602 (Illegal Gambling) and the Republic Act 10175 (Cybercrime Prevention Act of 2012.)
Several BI officials have been dismissed or put under investigation consequent to Lam's bribery attempt. Former BI deputy commissioners Michael Robles and Al Argosino have been dismissed by the President for having accepted a bribe. They returned P30 million of the P50 million that they admitted to have taken from Lam's camp.
BI intelligence chief Charles Calima Jr., who took P18 million, along with Edward Chan, a technical assistant for intelligence have also been dismissed. Calima surrendered the bribe amount and has filed plunder charges against Argosino and Robles. Erstwhile police chief superintendent Wally Sombero who was to act as a middleman in the deal has filed similar
cases against them
About the Author
Hi, my name is Marcus Punter and welcome to my website casinositeshelper.com, as a resident of the UK I have spent many years around gambling in various forms (more on this later). I thought I would give you a little insight into why I launched this site and to also give you a little bit of background information into...