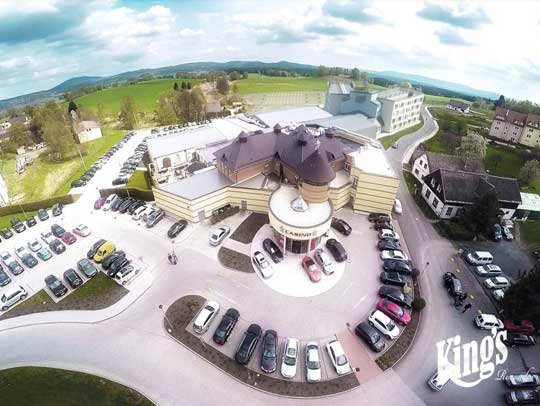 The King's Casino in Rozvadov, the Czech Republic is now counted amongst the top most casinos of Europe and is known to have the biggest poker room in Europe.
It regularly hosts some the biggest and most prestigious poker tournaments every year and attracting thousands of poker players on a regular basis.
Located near the German border, the 13-year old casino is easily accessible and brings in players from all over Europe. However as Rozvadov is a small town with just 500 people players have found it difficult to find accommodation when attending poker tournaments at King's casino. In 2015, over 250,000 poker players came to King's Casino and most of them had difficulties in finding a place to stay
Recognizing this problem Leon Tsoukernik, the owner of the King's Casino has decided to develop a high quality hotel with an investment of €20 million to provide the players with top-notch accommodation.
In a statement, Tsoukernik said
A player is the king at King's Casino. Our players are always right, even when they are not. They are our customers and we need to treat them the best way we can. Everyone who comes here is treated as a real king because our business works only if we convince people to come back to us every time they want to play
Tsoukernik said that the casino offered the best of the facilities to players including highly trained dealers who are taught at the in-house dealers' school and a restaurant that acknowledged to be among the best in the Czech Republic. Adding a new hotel that caters to the needs of the players will therefore greatly increase players' convenience.
So far players have been staying at guest-houses and small hotels in surrounding areas and cities but that was proving to be an unsatisfactory solution, with the casino losing out on customers due to lack of proper accommodation. The new facility would address this challenge. Tsoukernik said that the hotel will have 218 rooms, offer amenities like a fitness centre, saunas and massage rooms.
The first three floors of the hotel would be of four-star quality and the fourth floor would have a five-star with 18 large luxury suites. As a part of the expansion, the casino gaming area will also be expanded. A further 1,800 square meters of gaming area will be added which will have 40 more poker tables. According to Tsoukernik, construction of the new property would be completed by August 2017.
About the Author
Hi, my name is Marcus Punter and welcome to my website casinositeshelper.com, as a resident of the UK I have spent many years around gambling in various forms (more on this later). I thought I would give you a little insight into why I launched this site and to also give you a little bit of background information into...