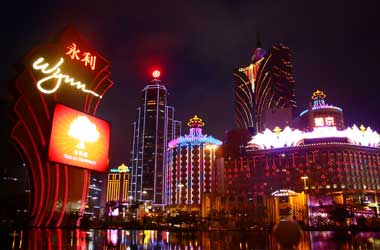 Casino's in Macau were optimistic that 2016 would be a better year for business and hoped that Macau's government would once again encourage the casino industry to flourish as it was responsible for generating more than eighty percent of the government budget.
Fernando Chui Sai On, the Chief Executive of Macau made it very clear that this would not be the case and warned the casino industry of a further decline in 2016 stating that the gross gaming revenue (GGR) for 2016 is expected to be around MOP 200 billion, which is a further drop when compared to the expected GGR in 2015. The chief executive announced his annual policy during the legislative assembly and encouraged casinos to continue to focus on non-gaming offerings in order to bring in more revenue.
Chui stated that the monthly revenue generated by the casino industry will be around MOP 16.6 billion each month in 2016 and stated that these predictions were conservative and would help to bring stability to the industry and casino expectations. Chui stated that Macau had enjoyed a 10 year period of extensive growth and the industry must be prepared for this transformation phase and be willing to adjust with the slowdown which the Macau government considered to be normal.
In a statement, Credit Suisse AG analysts Kenneth Fong and Isis Wong said
We believe that the [Macau] government may want to err on the conservative side to prepare their 2016 budget after the weak 2015 and government spending cut earlier this year. In general, the casino operators benchmark the civil servants' salary to adjust the employees' payroll. The moderating pay rise for civil servants is likely to alleviate the cost pressure of casinos as well, in our view
Macau's casinos industry brought in MOP 351.5 billion in GGR during 2014 and it surprised many as it was the first time in over 10 years that the casino industry experienced a decline. This decline in the casino industry was a result of the anti-corruption crackdown launched by Beijing which targeted VIP gamblers from the Mainland who were responsible for generating more than 50% of Macau's casino revenue. The anti-corruption crackdown has continued for the last 17 months and Macau has witnessed a decline in GGR for 17 straight months. The GGR for the first 10 months in 2015 dropped by as much as 35.5% when compared to the same period in 2014.
About the Author
Hi, my name is Marcus Punter and welcome to my website casinositeshelper.com, as a resident of the UK I have spent many years around gambling in various forms (more on this later). I thought I would give you a little insight into why I launched this site and to also give you a little bit of background information into...