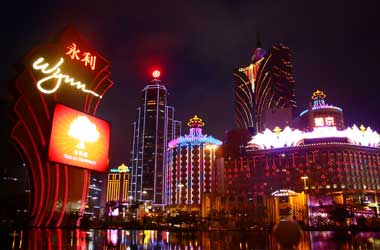 Gaming experts have often citied the vigorous anti-corruption drive by Chinese authorities as the key reason for the over two-year long slump experienced by Macau's casino industry as it impacted visitations, especially from VIP gamblers.
A report by brokerage firm Sanford C. Bernstein Ltd has sought to numerically examine the linkages between Chinese government action and Macau VIP casino GGR (gross gaming revenue).
Analysts from the firm have published a report under its new quarterly release called "China Premium Consumer Tracker" which has mapped government action in the form of announced disciplinary investigations by Central Commission for Discipline Inspection (CCDI) in China against the monthly growth recorded in Macau VIP casino GGR.
Represented in the form of a graph, the data shows that the drop in the number of disciplinary probes in China since February 2016 was coinciding with an overall rise in the Macau's VIP GGR year-on-year growth rate. The data covers all the months between March 2013 and March 2017. Several analysts believe that this steady recovery in casino revenue is stabilizing the overall market in Macau, but there are others who feel the recovery is still at risk.
In a recent report, Japanese brokerage Nomura has noted that the sudden rise in customer deposits with junket operators has help fuel improved VIP gaming performance but also attracted increased government scrutiny and regulations. Sanford Bernstein has warned investors that general consumer liquidity could tighten in China in the second half of 2017 which could negatively impact VIP gaming in Macau
So far credit growth in China is going strong. According to Nomura, the household loans figure in China, one of the key indicators of consumer liquidity for the market, has reached record highs in March.
Sanford Bernstein also pointed out that Chinese high-end consumer spending was on a high, noting that the launch of its new Tracker was timely. It has however warned that it might come under pressure later in the year.
In a statement, analysts at Sanford Bernstein said
Given the correlations between high-end spending and liquidity, we suspect monetary tightening in China may come to represent a headwind for demand in some of our sectors over time (notably in autos and gaming). For now though, China's moneyed class appear to be living the dream.
The new tracker will report on several indicators covering premium spending: real estate pricing, jewellery sales, international flight traffic, outbound tourism, luxury goods retail, Macau gaming revenues, cruise tourism demand, high-end liquor consumption, premium auto sales and high-end lodging.
About the Author
Hi, my name is Marcus Punter and welcome to my website casinositeshelper.com, as a resident of the UK I have spent many years around gambling in various forms (more on this later). I thought I would give you a little insight into why I launched this site and to also give you a little bit of background information into...