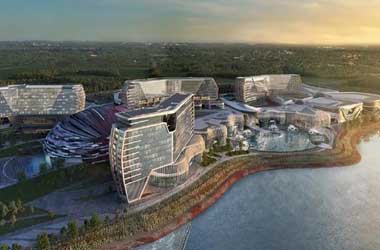 US-based tribal casino firm Mohegan Gaming and Entertainment announced during its recent conference call that dates for their planned South Korean project will be pushed back. The Inspire complex will be Mohegan's first casino resort in Incheon, South Korea.
CEO Mario Kontomerkos said during the company's fourth quarter results call this week that they are expecting the project to be completed either towards the end of 2020 or early 2021. This announcement comes after a statement was made last week from company chairman Kevin Brown who announced that the start of construction of Inspire has been delayed to Spring 2018.
Mohegan predicted in July 2017 that it expected to carry out a ground breaking ceremony for the complex before the year came to a close. The company had also previously announced that they expected to open the first phase of the development by 2020. Mohegan Gaming said that the delays were purely procedural and pointed out that their South Korean partners needed more time to secure the necessary permits from South Korean regulators to go through with the project. Their Korean counterparts are chemicals manufacturer KCC Corp and Incheon International Airport Corp.
The company stated that they had already completed 90 percent of the detailed design for the project but the delays have been disconcerting. Mohegan proudly announced its South Korean venture in April 2015 but progress on the project has been exceptionally slow. Mohegan's recent announcement aims to quell the rumours that Inspire was not going to be pushed through because of political tensions with neighboring countries such as North Korea and China.
When finished, Inspire will become the world's first destination resort casino that has its own private air terminal. Mohegan's partnership with the adjacent Incheon International Airport along with the zone plan to create an Incheon Free Economic Zone promises to make this a reality.
Upon completion, Inspire will house a huge 215,000-square- foot foreigner-only casino, a 15,000-seat arena, and three hotel towers featuring 1,350 guest rooms. The first phase of the Inspire project has been allotted an estimated $1.6 billion. A total of $5 billion has been committed to the project for the succeeding phases to be constructed over a period of 20 years. Inspire is Mohegan's first development outside North America. The tribal gaming operator currently owns and operates casinos in Connecticut and Pocono, Pennsylvania. The firm also operates gaming facilities in Louisiana, Washington and Atlantic City.
About the Author
Hi, my name is Marcus Punter and welcome to my website casinositeshelper.com, as a resident of the UK I have spent many years around gambling in various forms (more on this later). I thought I would give you a little insight into why I launched this site and to also give you a little bit of background information into...