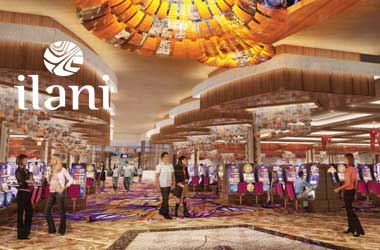 The operators of the sole commercial horse-racing track 'Portland Meadows' in Oregon are appealing to state lawmakers to approve the installation of additional lottery video terminals as it would help them face the increase in competition which is expected from a new casino which will opening nearby.
The Cowlitz tribe from Southwest Washington is scheduled to open the Ilani Casino in Ridgefield, a city close to Oregon's border in the neighboring state of Washington on April 24. The tribe got approval to open its casino after winning a lengthy court battle that went up to the Supreme Court.
ilani
The $510 million Ilani Casino will have a 100,000-square- foot gaming floor featuring 75 gaming tables and nearly 2500 slot machines. Other amenities include eight restaurants and a large entertainment center.
The new casino is expected to have significant impact on the revenue of Portland Meadows, and other Native American tribal casinos operating in the state. Industry experts also believe that the new casino will eat into the revenues of the state lottery. Almost half of Oregon's total approved video lottery terminals are located in the Portland metro area.
Mike Dewey, a lobbyist for Portland Meadows said that having additional slot machines was critical for keeping the track open. Justin Martin, a lobbyist for the Grand Ronde tribe, owners of Oregon's largest casino, Spirit Mountain, also confirmed that the Ilani would have a significant impact on the casino's revenue pointing out that gamblers will find it easier to drive to the casino which is located near Portland than to travel 63 miles to reach Spirit Mountain.
Bob Whelan, an ECONorthwest economist and a gambling expert who has worked closely with the Oregon Tribal Gaming Alliance, said that the effect of the new casino opening is likely to be similar to that of the smoking ban in 2007 which caused the state lottery revenue to decline sharply, with recovery taking almost a decade.
One of the measures being proposed to protect revenue is setting up more slot machines in Oregon's existing gaming facilities. But there are legal roadblocks to this – as per existing law lottery retailers apart from Portland Meadows can operate only up to six video terminals individually. Lawmakers are therefore being urged to consider bills that seek to relax these rules.
According to the Oregon Office of Economic Analysis, the new casino is expected to cut lottery revenues by $110 million annually, nearly 12 percent of the current revenue. Revenue from Oregon Lottery is used for fund economic development projects, education and parks.
About the Author
Hi, my name is Marcus Punter and welcome to my website casinositeshelper.com, as a resident of the UK I have spent many years around gambling in various forms (more on this later). I thought I would give you a little insight into why I launched this site and to also give you a little bit of background information into...