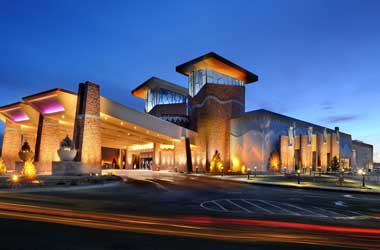 Northern Edge Navajo Casino in New Mexico is on its fourth year of successfully generating jobs for members of the Navajo tribe and tax revenues for the state.
The casino which opened in January 2012 was set up to provide employment opportunities to Navajo nationals and develop the area. Today the casino has over 300 employees which accounts for nearly 86 percent of Navajo tribe members. It is also one of two casinos under the Navajo Nation that contributes revenue to the state.
Northern Edge Navajo Casino was the third casino opened by Navajo Nation Gaming Enterprise, a Navajo Nation-wholly owned business entity that manages its gaming interests. The casino is situated approximately a mile west of the N.M. Highway 371 and Navajo Route 36 junction in Upper Fruitland Chapter. In addition to gaming, it offers live entertainment, dining and Navajo arts and crafts in its gift shop.
Derrick Watchman, Chief Executive Officer of the Navajo Nation Gaming Enterprise has said that the enterprise creates much needed wages and jobs in the region. According to him, these jobs allow Navajo professionals to stay close to home while ensuring steady income and revenue for the neighboring communities.
The Navajo Nation Gaming Enterprise operates three other casinos– two in New Mexico (Fire Rock Navajo Casino in Church Rock Chapter and Flowing Water Navajo Casino in Tsé Daa K'aan Chapter) and one in Arizona(Twin Arrows Navajo Casino Resort in Leupp Chapter). These four casinos employ a total of 1,200 employees.
According to the New Mexico Gaming Control Board, "net win" results for the third quarter of the year 2015, showed that the Navajo Nation's net win was $19.3 million, combining figures from Fire Rock and Northern Edge. It was also reported that the tribal casinos paid a total of $16.3 million in taxes. The "net win" term refers to the amount that was wagered on gaming machines after removing the amount paid out in cash and non-cash prizes and any regulatory fees. The net win numbers are not considered to be a casino's net profit.
The Navajo Nation has purchased additional land in 2014 at N.M. Highway 371 and Navajo Route 36 and is working with the federal government to put the land into a trust. The land is approved for commercial purposes and Watchman said the gaming enterprise remains interested in developing it. One of the options being considered by the tribe is to construct a hotel and conference rooms at Northern Edge.
About the Author
Hi, my name is Marcus Punter and welcome to my website casinositeshelper.com, as a resident of the UK I have spent many years around gambling in various forms (more on this later). I thought I would give you a little insight into why I launched this site and to also give you a little bit of background information into...