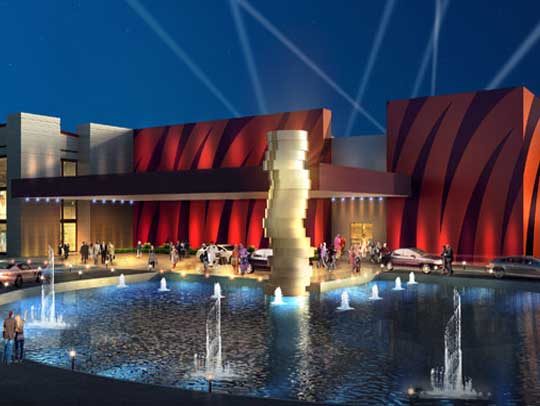 A casino being constructed in Nepal will look to primarily target Indian nationals once it is opened in 2017.
The casino is scheduled to have a soft launch in February 2017.
Nepal shares a long border with India and wants to capitalize on the lucrative Indian market as gambling is prohibited in most parts of the country.
Tiger Palace Resort, Bhairahawa is being developed by Australian company Silver Heritage Group Ltd. According to a filing made by the company with the Australian Securities Exchange, the casino area will cover 26,600 sq. feet and feature 200 electronic slot machines and 52 gaming tables. The filing stated that the construction of the casino is underway with the foundations and the plinth being completed while the interior walls and roofing is partially completed. Electrical, plumbing and mechanical work is ongoing and would be completed by February 2017.
Tiger Palace Resot
The casino resort is located in a 10-hectare (24.7-acre) site and will feature a hotel with around 100 luxury rooms along with two villas. Other amenities include retail and dining facilities, a spa, gym, sports facilities, a pool and a conference space with meeting rooms. The first phase of the project has a budget of US$40 million. Subsequent phases would expand the facilities at the resort which includes building 400 additional hotel rooms.
Silver Heritage is developing the Tiger Palace Resort, Bhairahawa as the third stage of its India-facing strategy. In the first stage the company opened the Millionaire's Club, Dhangadhi, in Nepal in 2013. The property had 20 gaming machines and three gaming tables apart from access to an on-premise hotel with 40 rooms.
In the second stage, the company launched the Millionaire's Club and Casino in Nepal's capital Kathmandu in 2015. This facility had 38 gaming machines and 22 tables, with access to 120 rooms of the Shangri-La Hotel. Silver Heritage has focused on India as a market citing research which has shown the potential of India's vast middle class.
The company has pointed out that around 30 million people combined reside in India's capital city of Delhi ,which is a short flight away. There are three Indian states which share a border with Nepal and the casino wants to attract visitors from these states. The casino also pointed out that close to 16 million Indians in the middle class economic bracket live in areas that are within a six-hour drive of Tiger Palace casino.
About the Author
Hi, my name is Marcus Punter and welcome to my website casinositeshelper.com, as a resident of the UK I have spent many years around gambling in various forms (more on this later). I thought I would give you a little insight into why I launched this site and to also give you a little bit of background information into...