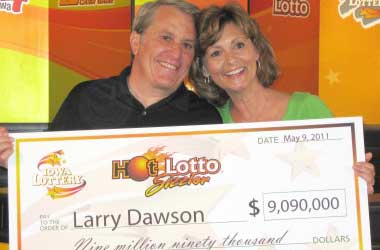 The 2011 Hot Lotto jackpot winner Larry Dawson filed a lawsuit in Iowa this week that seeks to claim an additional sum of $10 million plus interest which would have been added to his winning jackpot had it rolled over from the previous year.
This lawsuit was due to the fact that the December 2010 Hot Lotto results had been fixed by Eddie Tipton, who was the Multi-State Lottery Association's former security director.
This could be the first in a series of lawsuits likely to be filed against the lottery authorities by players for suffering losses as a result of the rigging carried out by Eddie Tipton. He was convicted in September 2015 and sentenced to prison for 10 years for rigging the winning numbers in Iowa's Hot Lotto game in December 2010 in an attempt to win the jackpot.
The investigation has now become nationwide after it was suspected that Tipton had fixed games in more than one state. Tipton is awaiting trial for similar offences in the states of Oklahoma, Wisconsin, Colorado and Kansas.
The lawsuit filed on behalf of Larry Dawson by a Des Moines law firm has asked the state lottery authorities to make good the loss sustained by him. Dawson won the Hot Lotto jackpot worth $9,090,000 in May 2011. The cash value of the jackpot was $6 million which was paid to him but he is now maintaining that he should have been paid $16 million cash which was what the jackpot would have been had Tipton not fixed it the previous year.
In a statement, Jerry Crawford, Larry Dawson's attorney said,
If the lottery hadn't rigged their own game, our client would have had $10 million more in cash value. Obviously, he needs to be made whole. The entire integrity of the lottery run by this organization nationwide is at stake here.
The Iowa Lottery and Multi-State Lottery Association have been named defendants in the case. Iowa Lottery's CEO Terry Rich said that they will fight it as Dawson was given winnings due to him and that history cannot be rewritten. Crawford has said that Dawson feels wronged by the lottery association's misconduct. The lawsuit is not a bid for publicity, instead it would hopefully make sure that similar negligence and misappropriation would not occur again.
According to the lawsuit, the December 2010 drawing went against the spirit of the Iowa law which defines drawing as a process that is utilized to select a winning combination randomly as a result of Tipton fixing the outcome. The lawsuit has also accused the association of lax security, saying that the random number generator used, which had been built by Tipton himself, did not have the fraud detection capabilities that are typically available in other models.
About the Author
Hi, my name is Marcus Punter and welcome to my website casinositeshelper.com, as a resident of the UK I have spent many years around gambling in various forms (more on this later). I thought I would give you a little insight into why I launched this site and to also give you a little bit of background information into...