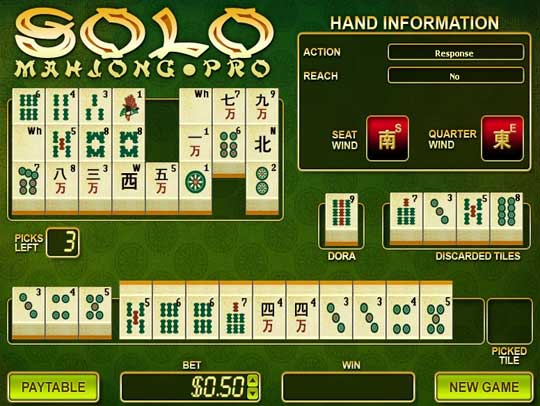 As part of our guide to Playtech's impressive range of Asian Games we are now going to introduce to you their Japanese Solo Mahjong Pro game, be aware this game has some subtle differences to Playtech's standard Japanese Solo Mahjong Game and as such it is going to appeal to players looking for a much more strategic type of game.
We would advise you to gain lots of experience in regards to playing Mahjong before playing this game for real money, for due to the way this particular variant is structured you will need to use your skill and judgement as well as having a full understanding of the way this game plays and pays to get the maximum winning opportunities when playing it!
Japanese Solo Mahjong Pro is a fairly straight forward type of game to play in as much as it uses a set of tiles as opposed to dice or playing cards as the way to determine whether a player has won or lost, and below you will find a complete and in-depth overview of just how the game is structured along with how you can win when playing it.

As with all of Playtech's other casino games you are able to give this Mahjong Solo Mahjong Pro game as much play time as you require via a free to play demo mode version of the game, and it does go without saying that by playing it for free you will soon get a full understanding of the game play rules and will be then able to make a much more informed decision on whether you wish to play it online for real money!
How to Play the Japanese Solo Mahjong Pro Game
You will of course find Playtech's Japanese Solo Pro game listed in the Asian Games section of the games menu in the casino at which you are playing at, and to launch it you simply need to select it from that games menu and give it a click.
The game screen will then launch and load instantly and then your first task is to pick one of the available stake options at which you will be playing the next game for. It should be noted that this Mahjong game variant is a very low stake game, and as such even if you are playing with a very modest bankroll you are going to find a stake level to suite your gaming budget!
In fact the available stake level options are 0.01, 0.05, 0.10, 0.25 and 0.50. You can adjust the stake level options by simply clicking on the arrows located at the bottom of the game alongside the coin values, and once you are happy with your chosen stake level then all that remains for you to do is to click on the New Game button and then the game will be sent into live play.
Once sent into live play 14 tiles will then be selected and displayed at the foot of the game screen, you now need to use your skill and judgement to select just one of these tiles which is going to be discarded and placed into the Discarded Tiles box.
You need to leave thirteen tiles displayed at the foot of the screen which is just one tile away from being a winning combination, for in the next stage of the game you have to select up to a maximum of three tiles which have been dealt out onto the Tile Wall.
There is a total of twenty four different tiles located face down on the Tile Wall, and as you pick them off one at a time they will be added to your original set of thirteen tiles and should they not form a winning combination the tiles will then be placed on the Discard Tiles box, should none of your selected three tiles form a winning combination then you have lost and the game will end.
However, should any one of the tiles you select from the Tile Wall, when it is added to your original set of thirteen tiles then go on to complete a winning combination, you will be instantly awarded with the winning payout associated with that winning combination and the game will then end.
Payouts and RTP
The payouts that you can be awarded with when playing this Japanese Mahjong Pro game can be rather confusing to new players, however once you play the game more and more you will soon get a full understanding of just how much you can win when playing this game.
In its most basic form the way in which you will be awarded a winning payout is best described as being by a points system, there are several different points that a winning set of tiles can be awarded and as such dependant on the actual score awarded via a winning combination of tiles will ultimately determine your winning payout.
There are just six winning payouts that you can be awarded with when playing this game and these are awarded when you get a score of 700 to 7999 points, 8000 to 15999 points, 16000 to 23999 points, 24000 to 31999 points, 32000 to 47999 and any score valued at over 48000 points.
The actual value of the winning payouts for getting a final score in any of the aforementioned point spreads are: x1, x2, x3, x4, x5 and x6 respectively, and as such this game is a relatively low variance type of casino game on which you will not be going on any wild swings in regards to winning and losing streaks!
There are many benefits to be had by playing this Japanese Solo Mahjong Pro game, the main one being that is boasts a payout percentage of some 97.96% which is considerably higher than the low payout percentage of 95.48% that is attached to Playtech's standard Japanese Solo Mahjong game, so if you do fancy giving this game a try then make sure you opt to play this Pro version of the game as it is the best paying game in the series!
About the Author
Hi, my name is Marcus Punter and welcome to my website casinositeshelper.com, as a resident of the UK I have spent many years around gambling in various forms (more on this later). I thought I would give you a little insight into why I launched this site and to also give you a little bit of background information into...