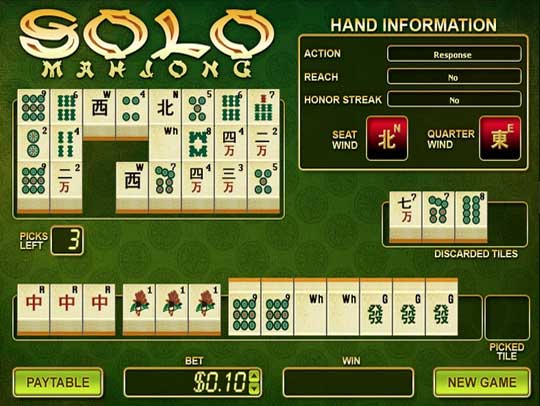 You will have a total of four different Mahjong game variants on offer if you choose to play the range of Asian Games offered by any online casino that is using Playtech's software platform, and below is a comprehensive guide to playing their WMF Solo Mahjong game.
We should start by explaining what WMF means if you have never come across this game before! WMF stands for the World Mahjong Federation which is the governing body for this game and as such it is their game playing rules and the game structure that is found attached and in play on this Mahjong game variant.
What separates all Mahjong games from other casino games is that they use a set of tiles and not a deck of playing cards or dice to determine the outcome of every game played, and as such if you are seeking a completely new and unique type of casino game to play and one that comes with a low variance type of payout structure then this WMF Solo Mahjong game is certainly a game worth playing.

We would like to additionally point out to you that usually Mahjong is a multi player type of game on which several players will be playing against each other, however this WMF Solo Mahjong game is a single player game which means you are playing on your own and simply need to be dealt out a winning combination of tiles to be awarded a winning payout and do not need to beat any fellow players or the Dealer as many other casino games will require you to do!
Learn to Play WMF Solo Mahjong Online
We would advise everyone who has never played WMF Solo Mahjong before but who wishes to give this game a try to first give the game some play time via the free play option of the game which all Playtech powered sites have on offer.
WMF Solo Mahjong may not appeal to everyone and as such by playing it at no risk and for free then that is the best way to make an informed decision on whether it is a game you actually enjoy playing and would enjoy playing for real money!
You are going to find this game listed in the Asian Game menu at Playtech powered sites and once you launch it you first have to select one of the many different stake levels to set the game to play at, you will notice the coin value settings are very modest and as such this can be a very low stake game which will suit low rolling players.
You can adjust the stake levels from 0.01 upwards in value to 0.05, 0.10, 0.25 or you can play each game for 0.50 and once you have selected one of those five stake levels just click on the New Game button and the game will begin.
A set of thirteen tiles will be dealt out and placed at the foot of the screen, this combination of thirteen tiles is just one tile away from being a winning combination, and the aim of the game is for you to select up to three tiles from the 24 face down tiles which are located on the Tile Wall.
At the end of the 13 initial tiles that have been dealt out you will see a box clearly marked as the Picked Tile location, and this is where each of your three selected tiles will be placed one at a time after you have selected them from the Tile Wall.
If the tile you have selected does not help to complete a winning combination then No Hand will be flashed up on that tile once it has been placed on the Picked Tile box and it will then be instantly removed from that location and placed onto the Discarded Tiles box.
Should any one of your three tiles you select form a winning combination then the game will come to an end and you will be awarded the payouts which are attached to that winning combination. Keep on reading for a round up of all of the available winning payouts along with the payout percentage of this Playtech designed WMF Solo Mahjong game.
Payout Structure and Payout Percentage
You can win one of six different sized winning payouts when playing this WMF Solo Mahjong game, the actual way in which a winning combination is determined is by the number of points that combination has scored.
Listed on the pay table of this game are all of the winning combinations, and when you form a winning tile combination which has a total point score of 3 to 4 points then you are awarded with a winning payout worth x1 of your staked amount for that game.
The payouts rise in value depending on just how many points your winning combination has scored and as such if your combination has 5 to 8 points attached to it you are awarded with a payout worth x2 your staked amount, this payout increases to x3 of your staked amount if your final score is 9 to 11 points.
You can win a payout worth x4 of your total staked amount should your tile combination end up being worth 12 to 14 points, a tile combination which is worth 15 to 17 points is worth x5 of your staked amount and the highest winning payout which can be won by players playing this WMF Solo Mahjong game is x6 of their total staked amount which is awarded for a score of 19 to 20 points.
When you are playing any casino game you will of course want to stick to playing games which come with high payout percentages, and as such we would like to inform you that the long term expected payout percentage of Playtech's WMF Solo Mahjong game has been certified as being a respectable 95.48%. However, do checkout their WMF Solo Mahjong Pro game which is their best playing Mahjong game!
About the Author
Hi, my name is Marcus Punter and welcome to my website casinositeshelper.com, as a resident of the UK I have spent many years around gambling in various forms (more on this later). I thought I would give you a little insight into why I launched this site and to also give you a little bit of background information into...