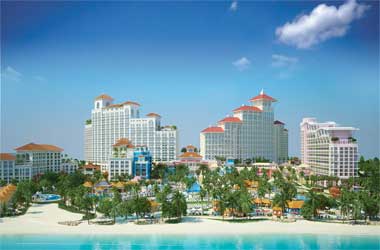 The Baha Mar casino resort located in the Bahamas is estimated to have been developed at $4.2 billion, is finally set to open on April 21 after a decade of delays, financial setbacks and legal disputes.
The 1000-acre property will boast of three hotels – SLS Hotels, Rosewood Hotels and Grand Hyatt. Between the three of them, Baha Mar will have nearly 2,300 rooms, but right now only Grand Hyatt with 1,800 rooms is scheduled to open during the soft launch.
Baha Mar
The Baha Mar resort will have an expansive 100,000-square- foot casino that overlooks the ocean and will feature the largest gaming floor across the Caribbean region. Apart from the casino, visitors will have a whole host of exclusive facilities including 30 luxury retailers such as Rolex, 42 restaurants and lounges, an 18-hole Jack Nicklaus Signature Golf Course plus a Golf Club, 11 swimming pools, among several other facilities.
In a statement, Reneta McCarthy, a senior lecturer at the School of Hotel Administration at Cornell University said,
There's been a lot of buzz about this project and drama surrounding it for years. It's an ambitious venture, and all eyes will be on it to see how it fares.
When the complex opens on April 21, the casino, seven swimming pools, the golf course, a portion of the spa and few of the retailers and restaurants will be opened to the public, with the rest opening in phases over the next year. Baha Mar's president, Graeme Davis noted that the resort will have a unique appeal to it as a special focus has been given to Bahamian culture and environment.
The project was first proposed by Bahamas businessman Sarkis Izmirlian over ten years ago, but it stalled after facing financial difficulties post the recession. In 2008, China's Export-Import Bank stepped in with a $2.5 billion loan as did China Construction America, which provided an additional $150 million. In 2015, the developer Izmirlian declared bankruptcy which led to work being stopped on Baha Mar despite over 97 percent of the project being complete.
The Bahamas Government then put it into liquidation and went on to deal directly with the Chinese investors since the project is expected to have a great impact on the local economy.
Last year Hong Kong-based conglomerate Chow Tai Fook Enterprises bought the resort from Export-Import Bank of China and promised to reopen it quickly. A 2013 report from Oxford Economics has stated that Baha Mar could account for nearly 12 percent of the country's gross domestic product after the resort is fully operational.
About the Author
Hi, my name is Marcus Punter and welcome to my website casinositeshelper.com, as a resident of the UK I have spent many years around gambling in various forms (more on this later). I thought I would give you a little insight into why I launched this site and to also give you a little bit of background information into...