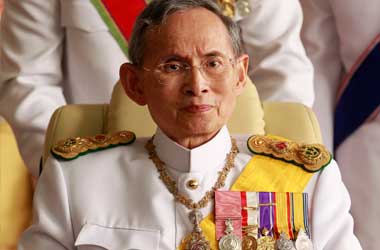 The recent death of Thailand's King Bhumibol Adulyadej is likely to have a near-to-long term impact on the region's gaming industry according to brokerage firm Union Gaming Securities Asia Ltd.
The King passed away on Oct. 13 at age 88 after ruling the country for 70 years.
In a statement, Grant Govertsen analyst Union Gaming said,
Over the near-term, we expect at least a month-long period of very soft Thai-originated gaming volumes at several border casinos run by publicly traded operators. Over the long term, a newly-elected government under the new monarch, or perhaps a strengthened military government, could green light the holy grail of gaming expansion in Southeast Asia
CNN
Casinos in neighbouring countries like Malaysia, Cambodia and Singapore currently see a fair amount of visitors from Thailand.
According to Union Gaming, four casino operators operating casinos in the border areas who derive much of their customer base from Thailand are likely to be the most impacted in the near term as the country is in deep mourning for 30 days. These are Donaco International Ltd, Entertainment Gaming Asia Inc, Macau Legend Development Ltd and Silver Heritage Ltd.
Industry experts however believe that the death of the king might bring in a new approach to gambling which is currently prohibited in the country.
According a study conducted by Rangsit University in Greater Bangkok, the country could receive tax revenue amounting to over THB100 billion (US$2.8 billion) per annum from legalizing gambling. Several studies over the year have revealed a strong demand for gaming services in the country indicating its market potential.
Rangsit University's study had shown that such facilities would be popular with not only the domestic population but also foreign tourists, projecting that the number of tourists visiting the country could go up by 40-50 percent if the casino industry was legalized.
The country has seen previous discussions regarding legalizing casinos and a minority group belonging to Thailand's National Reform Council (NRC) had suggested allowing a casino to be developed in Pattaya, a popular beach destination for tourists. In 2015, Las Vegas Sands Corp which operates the Marina Bay Sands casino in Singapore expressed interest in operating a casino complex in Thailand.
According to Govertsen, if gambling expansion is considered by a new regime in Thailand it would make it the most exciting market in the region, over even Vietnam. He attributed this to its already-existing high quality tourism infrastructure and its position as a preferred tourist destination.
About the Author
Hi, my name is Marcus Punter and welcome to my website casinositeshelper.com, as a resident of the UK I have spent many years around gambling in various forms (more on this later). I thought I would give you a little insight into why I launched this site and to also give you a little bit of background information into...