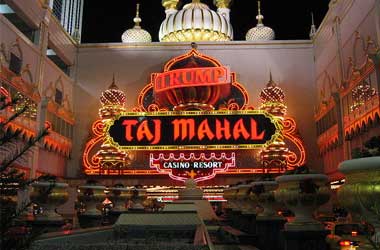 Hard Rock International is planning a major revamp for the erstwhile Trump Taj Mahal casino in Atlantic City which the company recently acquired.
Hard Rock has plans to introduce new forms of gambling such as fantasy sports contests, skill-based slots along with luxurious private gaming rooms.
NJTV News
The Associated Press has acquired the wish list submitted by the company to New Jersey gaming regulators through a FTI request. However only certain portions were made available as the remaining info was withheld as being proprietary trade secrets. Based on the document submitted by Hard Rock, the upgrade will include introducing a range of slot machines not currently available in New Jersey. There is also mention of using innovative technology that will seek to increase the amount of time spent by customers on the machines.
Another plan proposes setting up gambling areas apart from the traditional casino floor which could be used to host either traditional gaming formats or more modern ones like sports betting. Private VIP gaming areas are being suggested either within the casino itself or in the accompanying hotel property.
Skill-based gaming including fantasy sports contests is being planned as a means to attract a wider range of gamblers. Fantasy sports tournaments are not considered gambling in New Jersey as they were legalized in 2013.
Many of these ideas are already being implemented in Atlantic City casinos. The Tropicana has slot machines placed in the shopping-dining section while Caesars Entertainment is introducing skill-based slot machines on a pilot basis on its properties. Resorts Casino Hotel is on the verge of launching fantasy sports tournaments.
The casino floor in the renovated ex-Taj Mahal property will have provision for two separate arenas with seating for up to 7,000 and will have more than 2,400 slot machines. In addition to gaming, Hard Rock has detailed plans in its proposal for creating dining areas, pools and other amenities.
Hard Rock International along with a group of investors purchased the Trump Taj Mahal earlier this year for $50 million. The casino operator has plans to make major renovations to the property and has indicated that the property will be stripped of its well-known Indian theme including the iconic minarets.
After its revamp, the property will feature Hard Rock's signature music and rock 'n roll characteristics and culture. The property is slated for a summer 2018 opening. It is expected to create more than 1,000 construction jobs in addition to the 3,000 permanent casino jobs.
About the Author
Hi, my name is Marcus Punter and welcome to my website casinositeshelper.com, as a resident of the UK I have spent many years around gambling in various forms (more on this later). I thought I would give you a little insight into why I launched this site and to also give you a little bit of background information into...