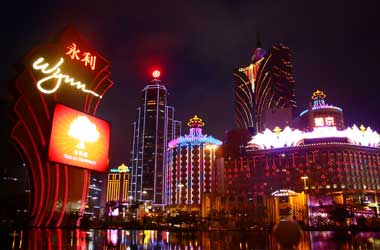 Analysts are forecasting that Macau's monthly casino gross gaming revenue (GGR) in January 2017 is likely to be its highest ever since signs of recovery emerged late last year.
Brokerage firm Union Gaming analyst Grant Govertsen has indicated in a recent report that January's gaming revenue growth would be robust.
In a statement Grant Govertsen said,
January is likely to be a big growth month. Even though the January calendar is unfavourable with one fewer Friday and one fewer Saturday [than January 2016], we expect the growth rate could be the highest yet during the recovery period.
According to the firm, Macau's recovery has its roots in June 2016 when month-on- month daily average casino GGR showed an upward trend for the first time, rather than the widely quoted growth in August.
One of the reasons for January's growth as pointed out by Govertsen is that January would have the Chinese New Year holiday towards the end of the month which could boost visitation in Macau. The New Year is on 28 January 2017, and given the late date Govertsen expects some of the benefits to spillover to February.
Estimates from Deutsche Bank Securities Inc puts growth in January to be around 12 percent on a year-on- year basis primarily driven by the Chinese new year. Analysts Carlo Santarelli and Danny Valoy have advised that the industry's performance be evaluated for January and February together considering the volatility typically seen around the holiday period. Accumulated GGR for the 2016 was down by 3.3 percent when compared to 2015 according to the latest data released by city's regulator, the Gaming Inspection and Coordination Bureau. The decline marked the third consecutive year of annual decline although the quantum of decline has come down.
The last five months of 2016 have seen initial growth trends, with the fastest monthly GGR growth being in November at 14.14 percent. In his note Govertsen has revealed that June's gaming revenue of MOP529 million (US$66.2 million) was the lowest point in all three years of decline for Macau, pointing out that December's daily average GGR of MOP639 million was a 21 percent increase over the June figure.
Govertsen has also highlighted the GGR growth in this period was more than the growth in hotel room supply, table games and slot machines. According to him, with hotel room supply likely to increase in 2017 as a result of new casino openings, growth prospects for the city were optimistic.
About the Author
Hi, my name is Marcus Punter and welcome to my website casinositeshelper.com, as a resident of the UK I have spent many years around gambling in various forms (more on this later). I thought I would give you a little insight into why I launched this site and to also give you a little bit of background information into...