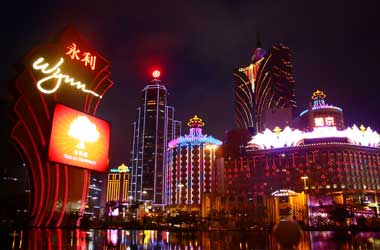 Latest government data shows that Macau's reinvention as a tourist destination is attracting visitors from nations beyond China, suggesting continuing growth in mass gambling revenue.
According to the city's Statistics and Census Service total visitors from South Korea, Japan, and the U.S. went up in November making up for the fall in tourists from Mainland China. Industry analysts are predicting a 7 percent rise in gambling revenue for Macau in 2017 driven by rising numbers of mass market gamblers, replacing Macau's traditional VIP gamblers base.
In a statement, Richard Huang analyst with Nomura Holdings Inc said,
There are definitely more reasons to come to Macau now versus two years ago, and that is the key reason why overnight visitation is growing faster than total visitation. We expect that to continue drive growth in the mass gaming segment.
Data also shows an increase in the visitors staying at least one night in Macau – in November it rose by 10 percent and accounted for 53 percent of all arrivals. These visitors are also choosing to stay longer – around 2.1 days. The number of day visitors dropped by 9.7 percent in the same period.
Macau's casino industry has overhauled itself to cater to the mass market tourists and families after the Chinese government's crackdown on corruption resulted in driving away VIP gamblers who were the mainstay for Macau.
Casino operators are now focusing on developing family-oriented attractions in their new ventures. Las Vegas Sands Corp. recently opened the Parisian Macao casino which boasts of a half-size Eiffel Tower replica while Wynn Resorts Ltd offers a number of entertainment facilities at their properties including gondola rides. Melco Crown Entertainment Ltd. has developed a Hollywood-themed resort.
Grant Govertsen, an analyst at Union Gaming Group LLC pointed out that attractions such as an Eiffel Tower helps to bring people to Macau, their main activity was still gambling. Unlike Las Vegas where non-gambling activities contribute 62 percent of total revenue, Macau sees only 6 percent revenue from these non-gaming activities.
The industry is however cautiously optimistic. Melco Crown Chairman Lawrence Ho believes that the Macau casino market is in recovery and unlike the post-2008 crisis this time around the recovery would be natural.
Galaxy Entertainment's billionaire chairman Lui Che-Woo however stated that it was too early to say that Macau was recovering. He felt that it was important to see if sustained growth occurs through the mass market segment. The gross gaming revenue for Macau is expected to be announced early next month and analysts are expecting the full year revenue to be in the region of about 222.8 billion patacas ($28 billion).
About the Author
Hi, my name is Marcus Punter and welcome to my website casinositeshelper.com, as a resident of the UK I have spent many years around gambling in various forms (more on this later). I thought I would give you a little insight into why I launched this site and to also give you a little bit of background information into...