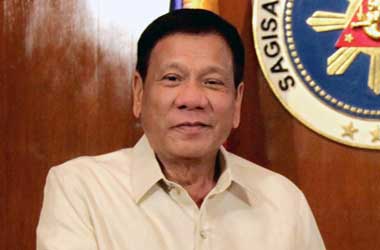 Mainland Chinese casino investor firm Landing International Development Ltd announced that its officials met with Philippine President Rodrigo Duterte earlier this week in regards to developing an integrated resort in the country.
The company did not release any further details regarding the project's location or whether it will contain gaming facilities. Landing International's chairman Yang Zhihui along with other senior officials from the firm met with the President and termed the meeting a success.
The company stated that President Duterte had welcomed the proposed investment and gave them his support.
In a statement Yang said
Following our first meeting with the President in May 2017 in Hong Kong to discuss investment opportunities in the Philippines, we are honored to share with President Duterte and his cabinet team our vision for tourism in the country and our proposal to build an iconic international branded theme park integrated resort in the Philippines.
Mr.Yang stated that the resort will have Asia's first movie-themed indoor theme park, a waterpark along with several other entertainment facilities suitable for families. He said that this integrated resort will boost the appeal of the Philippines as a tourism destination and generate jobs for the region.
A report published by a local newspaper the Manila Standard said that project would include a gaming facility and will be located in the Metro Manila area. It will be built as a part of a 147-hectare (1.47-square kilometre) land reclamation development in Manila Bay.
It is interesting to note that in March this year Andrea Doming, the head of the Philippines' gaming regulator PAGCOR announced a five-year ban on casino licenses in the Manila region due to concerns of over-supply. However casino operators can still get licenses for developing casinos in regional locations.
Landing International currently owns a casino on the South Korean island of Jeju called the Landing Casino which located inside the Hyatt Regency Jeju Hotel. The firm is constructing another casino property called Jeju Shinhwa World which is likely to be opened by 2019.
Landing International recently announced an agreement with Hollywood media group Lionsgate for developing an exclusive theme park at Jeju Shinhwa World.
China's State Council announced in late August that a new policy would be rolled out that would prevent Chinese firms from investing overseas into certain industries. The gaming industry is one of the industries on the list of no foreign investment as China's is taking stronger steps to curb flow of capital to overseas markets via such investments. Landing International does not appear to be curtailed by these new laws but only time will tell how things work out in the end!
About the Author
Hi, my name is Marcus Punter and welcome to my website casinositeshelper.com, as a resident of the UK I have spent many years around gambling in various forms (more on this later). I thought I would give you a little insight into why I launched this site and to also give you a little bit of background information into...