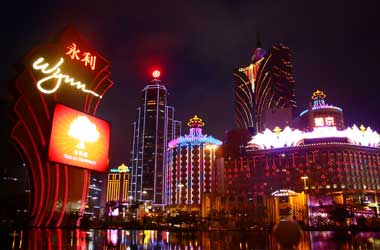 The service quality in Macau casinos has risen to its highest as per the Macau Gaming Service Index report covering the fourth quarter of 2016.
The service quality measure in the index went up to 2.42 points in the fourth quarter from 2.11 points registered during the same period, last year. The index has a rating scale between 0 and 3.5, with 3.5 being the highest possible rating.
The service index study is conducted by SGS Hong Kong Ltd. on behalf of the Macau Gaming Research Association.
Unidentified assessors visited 14 selected casinos and rated staff on parameters of smile, proactive attitude and tolerance. The tolerance measure assesses the levels of patience exhibited by the staff towards clients. The latest results show the maximum change over last year has occurred in the measure of proactive attitude. This has made it the primary driver of the surge in the gaming service index according to the association.
The quality of service delivered by table games dealers reached a record high, netting 144 points in the closing six months of 2016 as compared to the base of 100 set in 2013. As a part of the survey, the index evaluates nine of casino services namely, table games dealers, slot machines, security, the membership desk, the cage, complimentary food and drink, cloakrooms, the toilets as well as the shuttle bus system.
All casinos visited are either directly managed or are licensed by the six casino operators in Macau. The chosen venues were: Three Sands China casinos (the Venetian Macao, Sands Macao, Sands Cotai Central), MGM Macau, five SJM Holdings Ltd casinos (Grand Lisboa, Fortuna, Oceanus, Lisboa, and Ponte 16), Galaxy Macau, two of Melco Crown Entertainment (City of Dreams and Studio City ), and finally Wynn Macau.
The Gaming Index does not identify individual casino results and therefore doesn't publish ratings for the casinos. The Macau Gaming Research Association has announced that it would be expanding coverage in the next edition of the survey, which is being planned for 2017. The association will be increasing the number of service workers anonymously involved in the survey, and also increasing the number of casinos visited from 14 to 20.
The Association is also taking into account the suggestion received from the casino industry that the index be split into two – one for casinos in Macau and the other for those in Cotai.
This is essential given the larger scale of casino operations in the Cotai district.
About the Author
Hi, my name is Marcus Punter and welcome to my website casinositeshelper.com, as a resident of the UK I have spent many years around gambling in various forms (more on this later). I thought I would give you a little insight into why I launched this site and to also give you a little bit of background information into...