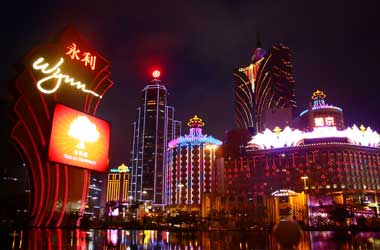 Macau's gross gaming revenue in the first 10 days of October crossed MOP 9.8 billion which is likely to result in an ADR of MOP 975 million, reaffirming trends of a market recovery according to a note released by brokerage firm Bernstein.
The ADR in the first week of October, which was the four-day Golden Week Holiday was much higher than last month's ADR of MOP 613 million and resulted in an increase of 18 percent increase over the same period in 2015.
In a statement, analysts from Bernstein said,
Overall, we view the Golden Week period as positive and affirms our view of a market recovery. However, the devil is in the details regarding the breakdown between VIP and Mass and overall market shares (which are not available) and as such the weight of the overall GGR number needs to be taken with a bit of skepticism
A report from Buckingham Research revealed that visitors to Macau was overall up by 8 percent during the Golden week and visitation rate from Mainland China in particular went up by 7 percent. Visitations from Hong Kong also showed a strong growth of 12.5 percent while visitors from Taiwan went up by 15.7 percent. The hotel industry in Macau enjoyed an occupancy rate of 92.3 percent which was 5 points higher than the Golden week in 2015, partially driven by the drop in hotel rates.
According Wells Fargo analysts the gaming floors in Macau's casinos saw VIP and premium mass segments showing strong performance while mass market segments saw a poorer performance. The analysts believe that mass market tourists preferred spending on family entertainment rather than gambling. Several market experts maintain that the shift in market focus from gaming to non-gaming has helped in the recovery. All six major casino operators have developed several new facilities and attractions targeting families such as theme parks, malls, dining and retail operations and other non-gaming attractions.
Wynn Resorts Ltd.'s new property the Wynn Palace has a stunning $100 million water fountain show which also offers a gondola ride around it, while visitors to Las Vegas Sands Corp.'s Parisian Macao will be able to view a half-size replica of the Eiffel Tower. Industry analysts noted that after 26 months of consecutive gross gaming revenue decline, August 2016 was the first month were revenues climbed by 1 percent. The Wynn Palace opened in August and the Parisian Macao opened in September 2017 and has helped in the Macau casino industry turnaround.
About the Author
Hi, my name is Marcus Punter and welcome to my website casinositeshelper.com, as a resident of the UK I have spent many years around gambling in various forms (more on this later). I thought I would give you a little insight into why I launched this site and to also give you a little bit of background information into...