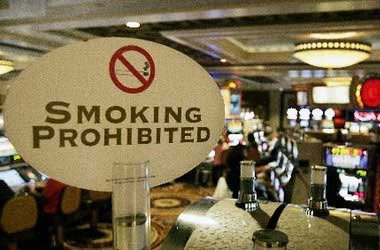 Macau's Legislative Assembly has approved an amendment bill that will further tighten regulations surrounding smoking on casino floors. Under the new law, VIP gamblers will no longer be allowed to smoke on the gaming floors.
So far Macau's casinos had banned smoking on mass market gambling floors but VIP gamblers were allowed to smoke in gaming areas dedicated for them. However with this new amendment, casinos will need to carve out a separate area for smokers.
The newly-modified Regime on Tobacco Prevention and Control will come into force on January 1, 2018. Macau casinos will be given a year's time to create smoking lounges that are not a part of the VIP gaming area. All the lounges in the casino including the ones on the mass market floors will need to comply with enhanced technical standards . The new technical specifications are expected to be released shortly via an executive order.
The amendment was passed after a second reading in the legislative assembly and a vigorous debate. Several lawmakers are opposed to any form of smoking inside the casinos. Ng Kuok Cheonga, a vocal opponent of allowing smoking inside the casino said that the amendment was a policy U-turn and a regressive move.
Calling the smoking lounges toxic chambers, he pointed out that the chemical residues from smoking persisted in the vicinity. He is recommending that the casino operators create outdoor smoking lounges. Another legislator , Au Kam San, said that this might not be the last of the legislation regarding smoking in casinos and stated that the bill might be revisited.
In a statement Au Kam San said,
The government said this revised bill is a step forward, which means there will be more moves in the upcoming years… With more changes of regulation in the future, gaming operators will have to alter their facilities… and that requires financial investment
Two legislators Zheng Anting and Angela Leong On Kei who are also executives belonging to the gaming industry stated that the government was ignoring the needs of casino workers by not allowing the installation of smoking lounges in their resting areas.
Leong who is an executive director with SJM Holdings Ltd also highlighted that smaller satellite casinos that are operated by third-party vendors under licenses of the six major casino operators may not have the funds required to set up the facilities according to the specified technical standards. She asked that they be given extra time and support. Brokerage JP Morgan Securities (Asia Pacific) Ltd had stated in a March report that the impact of the smoking ban will have a minimal impact on gaming revenue.
About the Author
Hi, my name is Marcus Punter and welcome to my website casinositeshelper.com, as a resident of the UK I have spent many years around gambling in various forms (more on this later). I thought I would give you a little insight into why I launched this site and to also give you a little bit of background information into...