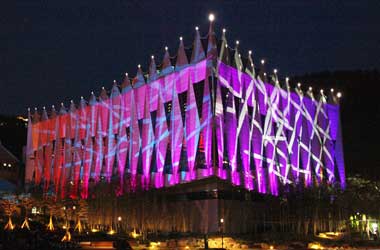 Kangwon Land, the only South Korean casino that allows locals to gamble is performing below expectations according analysts from brokerage firm Morgan Stanley.
In a recent report, analysts have said that the casino is currently operating at 2014 levels, much below their 2017 expectations for the casino.
Kangwon Land is a publicly listed company that's located in an upland territory in South Korea. Morgan Stanley is expecting an improvement in Kangwon Land's performance later this year, but has cut its full-year estimates. According to analysts, annual sales are currently lower than expectations by 17 percent while net profit is lower by 27 percent, leading to downward pressure on its shares. The poor performance has been attributed to the long-drawn political crisis in the country as well as the uncertainty surrounding issuance of a second license for a casino that allows locals to gamble.
CGTN Africa
In a statement Morgan Stanley said,
The stock has not moved as we expected, underperforming by -13 percent versus +3 percent for the Kospi [Korea Composite Stock Price Index] for the past six months. We think key market concerns were around: regulatory uncertainties (losing monopoly license amid discussion on the second locals-open casino); and earnings momentum slowing.
The analysts pointed out that the slots upgrades that had been planned for 2016 were now pushed to 2017 due to the political unrest and ensuing lack of management action. The report's authors, lead analyst Jay Lee, Alex Poon and Praveen Choudhary believe that the casino would be able to see a return to momentum and growth only in the second half of the year.
They have slashed the casino's sales estimate citing the delay in upgrades. Similarly, the drop-per- visitor growth expectations have also been lowered. This is partially due to the delayed upgrades and also due to the company taking a cautious approach to the revenue cap suggested by NGCC (National Gambling Control Commission). South Korean gaming regulation states that the gambling industry's total sales cannot be over 0.54 percent to 0.58 percent of its GDP.
The latest estimates are that the casino would record gaming sales of around KRW1.68 trillion ($1.49 billion) for the year while non-casino revenue would be KRW79 billion. Morgan Stanley has also noted that it was now including in its forecasting models a sum of KRW50 billion that is expected to be paid by Kangwon Land as a mandatory donation towards the 2018 Winter Olympics which will be held at a nearby province Pyeongchang. This is expected to hit its operating profit margin by 3 percentage points.
About the Author
Hi, my name is Marcus Punter and welcome to my website casinositeshelper.com, as a resident of the UK I have spent many years around gambling in various forms (more on this later). I thought I would give you a little insight into why I launched this site and to also give you a little bit of background information into...