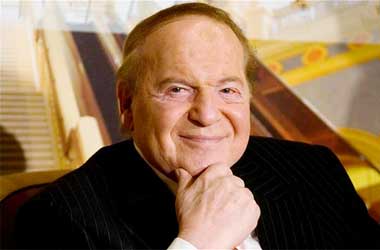 Las Vegas Sands Corp chairman Sheldon Adelson remains optimistic about the recovery of Macau's casino industry after his company's Macau operations registered a lesser decline than expected in its fourth-quarter earnings in 2015.
Sands China Ltd declared its adjusted earnings before interest, taxes, depreciation and amortization to be $581.2 million, which was a drop of 19 percent in the fourth quarter.
According to Karen Tang, an analyst at Deutsche Bank AG, the results beat the earlier estimated market expectation of $555 million and this gives Adelson an assurance that the Macau market is finally stabilizing.
Sands China Ltd operates four casinos in Macau and is slated to open its fifth casino before the end of 2016. The 5th casino is a $2.7 billion Paris-themed casino which will feature a half-size replica of the Eiffel Tower and is expected to boost revenue of the Sands China enterprise in the coming years.
In a statement, Sheldon Adelson said
I thought we had either hit bottom in the mass market or were bottoming out. Some of the numbers put out and experienced through December and January indicate to me that that's the case.
China's anti-corruption crackdown which started in 2014 has involved close scrutiny and investigations by the Chinese government on Macau's gambling industry and in particular its VIP market segment. As a result, the VIP gambling market has declined as VIP gamblers have preferred to keep away from Macau. This is one of the key reasons why Macau's casino industry has declined during the last 18 months but December's revenues show an improvement.
Share price of Sands China declined by 30 percent in 2015 but has recovered with a 14 percent gain in the fourth quarter on the back of mass-market revenue declining less sharply.
The positive indications have led to an increase of 4.9 percent in its shares to HK$25.75 in Hong Kong trading.
Tang said that Sands China's earnings have "handsomely" beat consensus and stated that the brokerage has a buy recommendation on Sands China, as Macau stocks are expected to rise for a period of 6-8 weeks in the traditionally strong season of Chinese New Year.
Las Vegas Sands Corp released its fourth quarter sales and profit results which did not hit Wall Street expectations due to the decline in gambling revenues in key markets of Singapore and Macau. Adelson however believes that Macau's casino industry will recover in 2016 and believes that his 5th casino in Macau will boost overall revenues for the company.
About the Author
Hi, my name is Marcus Punter and welcome to my website casinositeshelper.com, as a resident of the UK I have spent many years around gambling in various forms (more on this later). I thought I would give you a little insight into why I launched this site and to also give you a little bit of background information into...