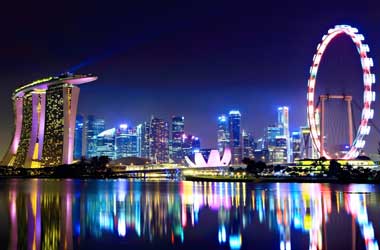 Fitch Ratings Inc. has forecasted that revenue for Singapore's two casinos would remain flat at $4 billion in 2017. The ratings firm has cited weak performance of VIP gaming segment as the main reason.
As a duopoly, Singapore has two operational casinos which is Las Vegas Sands Corp's Marina Bay Sands resort and Resorts World Sentosa which was developed and managed by Genting Singapore Plc. According to the report from Fitch, the poor showing in VIP gaming was affecting revenue.
In a statement Fitch Ratings said
Gaming revenues continued a downward trajectory in 2016 largely due to a steep contraction in the VIP segment, despite a 12.5 percent gain in Chinese visitors (the biggest source of VIP revenue) in first-half 2016. Locals are more drawn to state-owned lottery games: Singapore Pools; which also operates sports betting. There are also gambling cruises and small-scale slot parlours."

Foreign visitors are the primary source of revenue for casinos, as stringent entry restrictions apply to Singaporean residents. Locals are required to pay entrance fee of SGD100 for a 24-hour access and S$2000 for annual access. Marketing within the country is also heavily restricted. Fitch's report has pointed out that competition from other Asian casino hubs of Macau and the Philippines was also another reason for dampened growth.

According to Fitch, though there were chances of additional gaming licenses being issued were low, it was still a risk to the two casinos. The exclusivity granted to the two casino operators in Singapore is scheduled to expire in 2017, which opens the door for issuance of new permits. Both resorts additionally hold 30-year concession agreements. For the Marina Bay Sands (MBS) it will end in 2036 while for Resorts World Sentosa it will end in 2037.

MBS has a 60 percent share of the market and according to its fourth quarter results released by the Las Vegas Sands Corp, the adjusted property earnings before interest, taxation, depreciation and amortization (EBITDA) was up by 8 percent on a year-on- year basis. Net revenue in the same period climbed by 2.8 percent reaching $723 million. The group's chairman Sheldon Adelson mentioned during an analysts' call that there are plans to sell 49 percent of its stake in the shopping mall inside Marina Bay Sands for nearly $3.5 billion.

Fitch has also highlighted other risks facing the Singaporean gaming market including increased gaming taxes from 2022, high dependence on a small pool of high stakes players, low scope for expansion and increased restrictions on locals.
About the Author
Hi, my name is Marcus Punter and welcome to my website casinositeshelper.com, as a resident of the UK I have spent many years around gambling in various forms (more on this later). I thought I would give you a little insight into why I launched this site and to also give you a little bit of background information into...