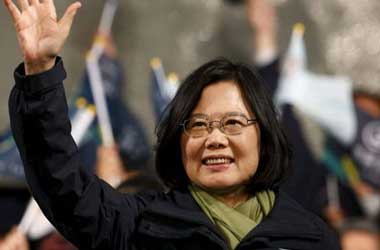 The pro-independence Democratic Progressive Party (DPP) recently won the presidential elections in Taiwan and this could have an adverse impact on the prospects of Taiwan's gaming industry based on market analysts predictions.
DPP's presidential candidate, Dr. Tsai Ing-wen, won 56 percent of votes in the recent elections and became the island's first female leader. In the same elections, DPP won 68 of the 113 seats of Taiwan's parliament, the Legislative Yuan. The ruling party Kuomintang could land only 35 seats making it the first time that it has lost control of the legislature. Kuomintang is known to have a far more pro-China stance as compared to the DPP.
Brokerage firm, Union Gaming Securities Asia Ltd has said that the landslide victory of DPP could make it hard for the gambling industry to develop in the country.
In a statement Grant Govertsen, Union Gaming analyst said,
Following the elections, stern rhetoric has already come out of Beijing, including from the official press agency, Xinhua, which stated 'the DPP's return rule poses grave challenges to cross-Strait relations.

Separately, President Tsai has personally gone on record as being anti-gaming during the recent election cycle, and she had instructed DPP legislators in 2009 to vote against the bill to allow gaming referendums.
It was in 2009 that Taiwan lifted a 15-year ban on gambling on its outlying island chains of Kinmen, Matsu and Penghu. In a referendum in July 2012, citizens of Matsu voted in favor of casinos in order to attract more tourists. A similar referendum is being planned for Penghu this year but it is subject to support from local residents and approval from Taiwan's executive branch of government.
Earlier in 2015, there had been discussions of a gaming bill to allow casinos in Matsu and other island with approvals to conduct an RFP [request for proposal] to develop casinos. But chances of that happening now, as per Govertsen, are "somewhat pessimistic."
China has already rejected the possibility of allowing Mainland Chinese citizens to gamble in Taiwanese casinos if and when they become a reality and with the DPP coming to power this is unlikely to change according to Govertsen. He also believes that none of the Macau based casino operators will be willing to participate in Taiwan's gaming industry given that it is likely to anger Beijing authorities and that would make it difficult for Taiwan's gaming market to compete as it would depend heavily on Mainland China's gamblers.
About the Author
Hi, my name is Marcus Punter and welcome to my website casinositeshelper.com, as a resident of the UK I have spent many years around gambling in various forms (more on this later). I thought I would give you a little insight into why I launched this site and to also give you a little bit of background information into...