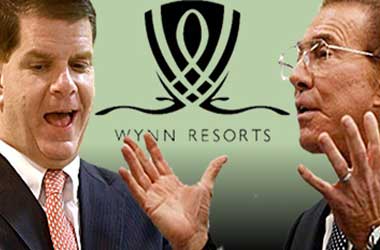 Boston Mayor Marty Walsh and his government have opposed the Wynn Everett casino proposal for the last few months and have been involved in a legal battle that has received a lot of media attention. Walsh has fought tooth and nail stating that the state gaming commission had violated protocol to award a license to Wynn Resorts for the proposed $1.7 billion Wynn Everett casino.
Before it could escalate to the courts both parties tried to find common ground but in the end were unable to reach a mutual decision. Billionaire Steve Wynn went on record to call Gov.
Marty Walsh a stubborn man who cannot be reasoned with. Wynn also committed to staying in Everett and fighting the case saying no one was going to stop the Everett casino.
During the last month, the results have swayed in Wynn's favour as the courts have warned Walsh over conducting a media trial and trying to gain political mileage. Wynn Everett also received a critical environmental permit that allows them to start prep for the Wynn Everett site and it appears that in the end it is Steve Wynn who will have the last laugh.
Wynn Resorts will not be gloating over their recent success because they realize that it is still an uphill task to secure all the remaining permits and proceed with the construction phase of the project. After months of refusing to work out a mutual agreement, Walsh government representatives and Wynn Resort executives held a meeting to see if they could find common ground to work together and not step on each other's toes. The meeting was a step in the right direction and if the two parties manage to work out a deal, the lawsuit filed by the city of Boston and Mayor Walsh could be dropped.
Mayor Walsh's team released a statement after the meeting which said
Mayor Walsh is exploring all options to resolve this matter on behalf of the people of Charlestown and the city of Boston. This includes conversations with Wynn officials around whether or not there is such an opportunity. Today's discussions were productive and they will continue.
Wynn Executives were also positive over the meeting stating that every week the Wynn Everett casino continues to advance in the right direction and having a dialogue with the city of Boston is also a part of that advancement process.
About the Author
Hi, my name is Marcus Punter and welcome to my website casinositeshelper.com, as a resident of the UK I have spent many years around gambling in various forms (more on this later). I thought I would give you a little insight into why I launched this site and to also give you a little bit of background information into...