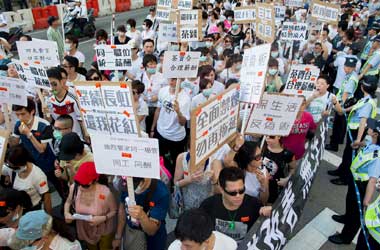 Casino operators in Macau are being pressurized to increase salaries of their employees this year by Macau's unions and labour groups based on reports from the local media.
While some casinos have gone on record to confirm on bonuses for 2016, there has been no announcement from the casino industry on increasing salaries this year.
The Macau Gaming Enterprises Staff's Association is the labour group that is affiliated with the influential trade union, the Macau Federation of Trade Unions. The association has confirmed that it will join hands with two other groups that also represent casino workers in Macau. They will be delivering letters to Macau's six casino operators calling for salary increases and bonuses in 2016.
Two of the six operators have declared bonus for their employees under their guaranteed bonus schemes. Wynn Macau Ltd announced that it would be paying a one-month bonus to its employees before the Chinese New Year holiday period, which commences on February 7 this year. The bonus will cover 98 percent of its total workforce of 8000 and will exclude senior management.
In a statement, Choi Kam Fu, director general of the Macau Gaming Enterprises Staff's Association said,
The expenditures on the welfare of the staff do not occupy a large portion of the overall operational costs. Some only make up around 10 percent. Based on the adjustment, the expenditures would not draw too much pressure.
SJM Holding, the other casino, also announced earlier that it will be paying out bonus as per its program of offering "living subsidies" twice a year. It would be giving an annual bonus that is equivalent to two months of salary for employees earning up to MOP20,000 per month and those with monthly salaries above that level would be entitled to an annual bonus equivalent to 1.5 times their monthly wage or MOP40,000, whatever is higher. This was announced via an internal memo to employees which did not discuss any salary increase for this year.
Both Wynn and SJM holdings had given a 5 percent salary hike in 2015 to its employees.
According to newspaper reports, SJM Holding's Chief executive Ambrose So Shu Fai has said they would discuss the issue of increasing salaries in 2016 after taking into account the company's operational results. The slowdown in Macau's casino industry has put pressure on the margins of all operators due the continued drop in revenues.
About the Author
Hi, my name is Marcus Punter and welcome to my website casinositeshelper.com, as a resident of the UK I have spent many years around gambling in various forms (more on this later). I thought I would give you a little insight into why I launched this site and to also give you a little bit of background information into...