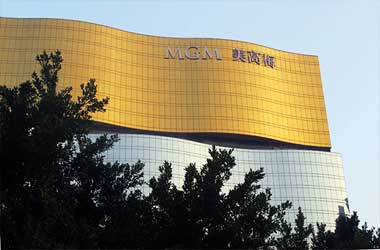 MGM China Holdings Ltd recently reported a drop in the rate of decline in its second quarter revenue which is yet another indication that Macau's casino industry is stabilizing. The results for the second quarter for MGM China witnessed a decline of 19 percent in revenue when compared to the second quarter of 2015.
MGM China recorded a 25 percent drop during the first quarter of this year and the results prove that things are looking up for Macau's casino industry and MGM China.
In a statement, analysts from brokerage firm Sanford C. Bernstein & Co said,
The company is experiencing a deepening of customer quality, with returning frequency of known customers.
In the second quarter, the company has recorded revenue of HK$3.5 billion ($451 million) and earnings before interest, taxes, depreciation and amortization of HK$3.5 billion ($451 million). Total sales was $2.27 billion a decline of 4.8 percent over last quarter while VIP gaming fell by 10 percent over previous quarter and 31 percent from a year earlier.
There are also a number of billion dollar resorts scheduled to open in the Cotai district during the coming months. Wynn Resorts Ltd.'s  $4.1 billion Wynn Palace is expected to open later this month, Las Vegas Sands Corp.'s $2.7 billion Parisian will open in September and the MGM Cotai is expected to open early next year. All three billion dollar resorts are expected to have a significant impact on the industry.
Market analysts have been suggesting that the casino market in Macau has stabilized with the drop in declining revenues. This is mostly due to the fact that there has been an increase in revenue from the mass market segment. The Macau industry has been suffering from declining revenue for over two years triggered by the anti-corruption campaign by the Chinese government.
James Murren, chief executive officer of parent company MGM Resorts International said that the recovery of VIP gaming market might take another three years. He said that there would be an increase in room availability as a result of the new casino openings which could result in discounts in room prices, but the most critical factor that remains to be seen is if betting by mass-market gamblers continues to increase in Macau.
This July the decline in betting in Macau was only 4.5 percent which was better than expected. Murren said that the internal view was that the casino industry had finally stabilized and was showing signs of improvement.
About the Author
Hi, my name is Marcus Punter and welcome to my website casinositeshelper.com, as a resident of the UK I have spent many years around gambling in various forms (more on this later). I thought I would give you a little insight into why I launched this site and to also give you a little bit of background information into...