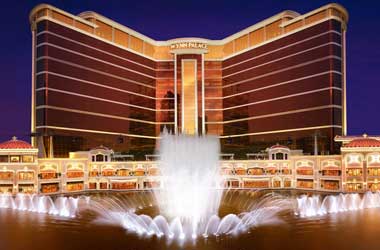 Wynn Resorts Ltd's second quarter earnings for 2017 has exceeded analysts' expectations with the results buoyed by a 44.5 percent jump in revenue coming mostly from Macau.
The global casino operator has reported adjusted net income of $1.18 per share for Wynn Resorts as against expectations of $1.14.
The revenue increase to $1.53 billion seen for the quarter ending June 30 has been attributed to $414.7 million revenue generated by the new Wynn Palace which is located in Cotai. The $4.4-billion integrated resort opened in August 2016.
Second quarter earnings for Wynn Macau Ltd was over $1.09 billion, up by around 71 percent year-on-year. Chairman and CEO Steve Wynn said in a conference call with analysts that earnings could have been even better if the construction projects ongoing in the vicinity of Wynn Palace hadn't obstructed pedestrians' entry to the property.
Wynn also stated that he expects Wynn Palace to do much better once all the construction projects underway around the property and the major transportation system being built close to it is completed.
The chairman pointed out that the physicality of a neighborhood and access to a casino affected its visitation to a large extent, particularly so in the case of mass market visitors. He also highlighted the fact that the financial results for the last quarter confirmed that the new Wynn Palace was not cannibalizing revenue from other properties in Macau – namely Wynn Macau and Encore.
In regards to the company's Las Vegas plans, Wynn said that his team was putting finishing touches to plans and permit applications for the first phase of the Paradise Park project which is estimated to be around $1.5 billion. The project is expected to break ground early 2018.
Comprising of a man-made lagoon, white-sand beaches, as well as hotel rooms and business facilities like a convention center, the Paradise Park is one of Wynn's most ambitious projects. He said that there was a lot of interest in developing the available land spread which covers 140 acres between the existing resort and Paradise Road frontage.
In a statement Wynn said
That area is the most precious piece of real estate in the whole resort industry in Las Vegas. The conversations I've had have been very exciting and gives me a lot of optimism about how we will continue over the next four to five years.
Wynn said that the company was also close to finishing a total upgradation of the sport book at the company's Las Vegas property.
About the Author
Hi, my name is Marcus Punter and welcome to my website casinositeshelper.com, as a resident of the UK I have spent many years around gambling in various forms (more on this later). I thought I would give you a little insight into why I launched this site and to also give you a little bit of background information into...