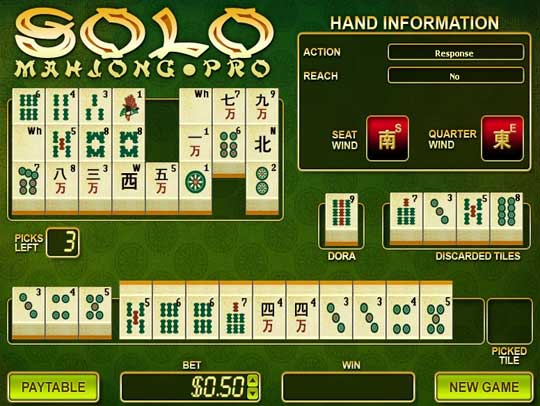 There are a small yet quite dynamic range of Asian Games which can be accessed and played when you are playing at any casino site utilising Playtech's software gaming platform, and these games include the Japanese Solo Mahjong game, along with its sister game which is slightly more strategic that being the Japanese Solo Mahjong Pro game and you will also find on offer the standard game of WMF Solo Mahjong.
However, out of all of the Mahjong games you will find available at Playtech powered sites the one which boasts the best payout percentage and therefore offers players the very best winning opportunities is the WMF Solo Mahjong Pro game, which is going to appeal to players who understand how this game plays and pays and can put into play an optimal playing strategy.

Should you have never had the pleasure of playing Mahjong games before, they are very low stake casino games on which tiles are used to determine the outcome of each game played, and as these games are structured as very low variance games they will appeal to players seeking some longer than average playing sessions.
There are quite a number of differences in regards to the way the WMF Solo Mahjong Pro game variant plays and pays and as such below is a complete round up of how to play this game. Should after reading this game playing guide you wish to give it some play time online then be advised you are able to play it at no risk at any of our listed Playtech powered sites as both real money and free play versions of this game is available.
By the way, WMF stands for the World Mahjong Federation and as such this Pro version of the game is played to the rules as laid down by this governing body of the game! It is a single player game variant which means you simply have to be dealt out a winning combination to be paid a winning payout and will not have to beat any fellow opponents or beat the Dealer as is often the case when you are playing other casino games!
How to Play Playtech's WMF Solo Mahjong Pro Game
As mentioned above this game is available as either a free to play game or as a real money game, so once you have chosen just which version you wish to play, which incidentally both play in exactly the same way except when playing for real money any winnings are of course yours to keep, you will then need to pick one of the five available stake levels at which to play it for.
Playtechs WMF Solo Mahjong Pro game can be set to play for stakes of 0.01, 0.05 0.10, 0.25 or at stake levels of 0.50 per game, the coin values are adjustable and the stake option settings control box is located at the foot of the game screen, once you have selected one of the stake level settings just click onto the New Game button and the game will then begin.
By clicking on the New Game button a set of fourteen tiles are dealt out to you at the foot of the screen, plus in addition to those fourteen tiles you are also dealt out in the Tile Wall box a total of twenty four tiles, these tiles are not dealt face up they are dealt face down and as such you cannot see the values of them!
Once all of the tiles have been dealt out you now have to face your first playing decision, and this is to pick one of the fourteen face up tiles to discard, the aim of this part of the game is to simply leave thirteen tiles in play which are just one tile away from a winning combination.
After selecting one of the facing upwards tiles to discard by clicking on it that tile then gets places into the Discarded Tiles box and is removed from live play. You next have to pick one of the twenty four facing down tiles off the Tile Wall in the hope that when it is added to your thirteen facing upwards tiles it completes a winning combination.
Should your first, second or third tiles that you pick off the Tile Wall not help you form a winning combination then the game will end and you will have lost your stake money, however should any one of those maximum of three tiles you can pick off the Tile Wall end up forming a winning combination when added to the thirteen face up tiles you are awarded one of the payouts as listed below.
WMF Solo Mahjong Pro Payout Structure
You are going to find the most played Mahjong game offered in Playtech powered online casino sites is this WMF Solo Mahjong Pro game, and the reason for this is that it has the highest payout percentage attached to any Asian Game offered at these sites, and this has been certified as being a rather generous 98.09%, so if you do fancy trying out a Mahjong game variant then put this game at the top of your list!
The actual payout amounts that can be awarded on this game are not huge, however the way they have been structured means this is a very low variance type of casino game. You are awarded a set of points based on the total value of your winning combination of tiles and based on the number of points one of six different payouts are awarded.
Get 3 to 4 points and x1 your staked amount is returned to you as payout, score from 5 to 8 points and that winning payout becomes x2, 9 to 11 points earns you a winning payout of x3, a point score of 12 to 14 will see your staked amount wagered on that winning game being boosted to a winning payout of x4, if you manage to score from 15 to 17 points your staked amount is paid out at x5 its value and the maximum winning payout of x6 of your staked amount is awarded for a score of 18 to 20 points.
About the Author
Hi, my name is Marcus Punter and welcome to my website casinositeshelper.com, as a resident of the UK I have spent many years around gambling in various forms (more on this later). I thought I would give you a little insight into why I launched this site and to also give you a little bit of background information into...